Afghanistan: President Biden says he stands 'squarely' behind decision to pull out US troops | World News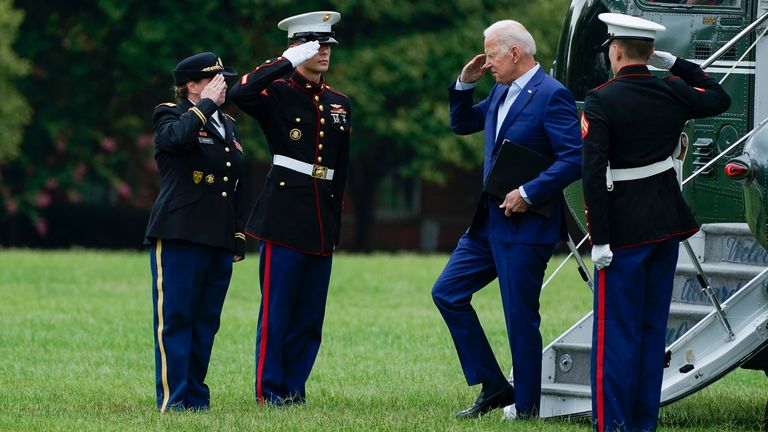 Joe Biden says he stands "squarely" behind his decision to pull US troops out of Afghanistan.
The US president spoke after the Taliban entered Kabul and swept to power in the country – 20 years after they were removed in the US-led invasion.
Mr Biden said the US mission in Afghanistan was never supposed to be nation-building.
"I stand squarely behind my decision," he said – though he did admit the collapse of the Afghan government was quicker than anticipated.
As the Taliban regained control, the US, the UK and other countries scrambled to evacuate their citizens and local allies.
Mr Biden warned the Taliban not to interfere with the US evacuation effort, threatening "devastating force, if necessary."
Afghanistan live updates: All the latest as the Taliban establish new government
Thousands of Afghans rushed into Kabul's main airport, plunging it into chaos. Some were so desperate to escape the Taliban that they held on to a military jet as it took off, and fell to their deaths. Senior US military officials said seven people were died in total.
The Taliban are expected to announce that Afghanistan is now the Islamic Emirate of Afghanistan, under Sharia law.
Taliban officials have declared war in Afghanistan is over and it is in charge of 90% of government buildings, amid allegations of revenge killings, brutal tactics, and some looting and lawlessness.