Doctor shares startling reminder guns are leading cause of death for children and teens in US | US News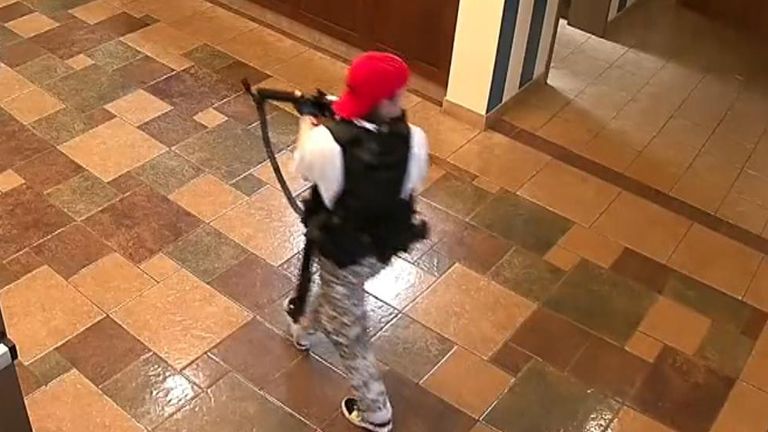 An emergency room doctor has shared a startling reminder that gunshots are the number one cause of death for children and teenagers in the US.
Dr Sam Ghali shared the chest X-ray of "a young boy suffering from a condition that is now the #1 cause of death in children and adolescents in the US" on X, formerly Twitter, asking his followers: "What's the diagnosis?"
The picture shows the child's chest with what appears to be foreign objects inside the lungs.
"Thoughts? Prayers? I'll give you a hint it's not the FLU, RSV, or COVID," Dr Ghali added.
The majority of replies to the picture correctly guessed it showed a gunshot wound.
An analysis of US Centers for Disease Control (CDC) data published last week showed gunshots remained the leading cause of death among children in the US in 2021.
The study, published in the American Academy of Pediatrics journal, found 4,752 children and adolescents (from new-borns to 19-year-olds) died from being shot in 2021.
Of those, 64% were homicides, almost 30% were suicides and 3.5% resulted from "unintentional injury".
It was a 41.5% increase in the paediatric firearm death rate from 2018 to 2021.
Read more on US mass shootings:
America's 10 most deadly mass shootings of 2023
Two weeks of mass shootings in America
Police release 911 school shooting call

Firearms remain leading cause of death for children and teenagers post-pandemic
"The large uptick in paediatric firearm-related deaths in 2020 garnered national attention, with many theorizing the increase to be because of the onset of the coronavirus disease 2019 pandemic and exacerbation of root causes," the authors wrote.
"Strikingly, although initial pandemic-related fears and anxiety have dampened, firearm mortalities persisted as the leading cause of death in children and adolescents in 2021."
At least 1,187 children and teenagers (from new-borns to 17-year-olds) have been killed in shootings so far this year, according to data from the Gun Violence Archive.