The number of people confirmed dead following a mass shooting at a Chinese New Year celebration in California has risen to 11.
One of 10 people wounded in the atrocity in Monterey Park, about seven miles (11 km) east of Downtown Los Angeles, has now died of their injuries, health officials said.
Two women, My Nhan, 65, and Lilian Li, 63, have been named as being among the dead.
Sky News understands that Ming Wei Ma, owner of the Star Ballroom Dance Studio, also died.
In a news conference late on Monday night, LA County Sheriff Robert Luna said Alvero Valentino, 68, had been killed too.
All but one of the victims was 60 or older, according to the Los Angeles coroner's office.
A total of 42 rounds were fired in Monterey Park, Mr Luna said, adding that a large capacity magazine was found at the scene.
About 20 minutes after the shooting there, the 72-year-old suspect, Huu Can Tran, entered the Lai Lai Ballroom and Studio dance club in the neighbouring city of Alhambra.
Brandon Tsay, who operates the family-run venue, described how he managed to wrestle the weapon from him before he was able to start shooting.
"That moment, it was primal instinct," Mr Tsay told The New York Times, adding that the gunman fled the scene after a 90-second struggle.
"Something happened there. I don't know what came over me."
Mr Tsay told ABC: "When I got the courage, I lunged at him with both my hands, grabbed the weapon and we had a struggle.
"We struggled into the lobby, trying to get this gun away from each other. He was hitting me across the face, bashing the back of my head."
After finally getting control of the gun, Mr Tsay said he pointed it at Tran and shouted: "Get the hell out of here! I'll shoot! Get away! Go!"
Police surround van of shooting suspect

About 12 hours later, police officers in Torrance, 20 miles southwest of Monterey Park, cornered a white van Tran was driving.
As officers approached, they heard a single gun shot from inside as Tran killed himself.
A handgun recovered from the van's interior was registered to the suspect, Mr Luna told reporters.
He also revealed that the weapon wrestled from Tran in Alhambra was a 9mm semi-automatic mach-10 assault weapon.
Mr Luna described Mr Tsay as a "hero".
Tran's mobile home in a community for pensioners has been searched, where numerous electronic devices, such as mobile phones and computers were recovered, Mr Luna said in his update.
A 308 calibre rifle was also discovered, and there were hundreds of rounds of ammunition.
Tran had a "limited criminal history", Mr Luna said, and was arrested in 1990 for the unlawful possession of a firearm.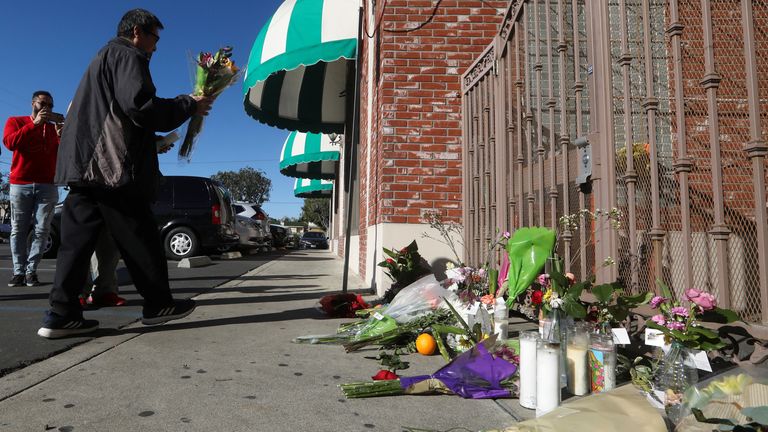 Law enforcement forces said evidence gathered so far indicated a personal motive rather than terrorism or a hate crime, NBC reported.
It has emerged that Tran visited police in his town of Hemet twice this month to allege he was the victim of fraud, theft and poisoning by family members between 10 and 20 years ago in the LA area, spokesman Alan Reyes said.
Tran said he would return to the station with documentation but never did.
A former tenant described him as "angry and distrustful".
"There's a lot of speculation and we don't know," said Mayor Henry Lo of Monterey Park, as he was asked about a potential motive.
It was the USA's fifth mass killing this month.