A former Royal Navy submarine captain has explained the possible reasons for the "catastrophic implosion" suffered by the Titan submersible on its descent to the wreck of the Titanic.
All five people on board are now believed to have lost their lives in the catastrophe after debris from the vessel was discovered on Thursday.
"The only positive out of it is that it was instantaneous and they didn't know anything," former captain Ryan Ramsey said.
Victims' remains may be left 'in peace' – Titanic sub search latest updates
He believes that one of two things happened:
• Hatch with bolts that was used to seal the crew in from the outside suffered a failure that caused the hull to collapse
• Pressure hull itself had a defect that fractured from the pressure and caused the same result.
Teen on Titan 'had a sense this was not okay'

Read more:
Son, 19, killed in Titan sub went as a Father's Day present
Expert's 2018 Titan warning was 'ignored'
"I doubt very much that any of them expected this outcome and I suspect they would have considered briefly but put it to the back of their minds because three trips had already been done down to the Titanic by that submersible," he added.
When asked about the safety of the sub, Mr Ramsey said that lessons need to be learned, and questions remain.
Click to subscribe to the Sky News Daily wherever you get your podcasts
"That's the question that needs to be answered. Most submersibles and all submarines go through a stringent safety process.
"Every time they come back in and every time before they go to sea they do safety checks, check the safety of the hull, state of the hull openings, everything.
"What's apparent here is they didn't have to follow the same regulation, and therefore didn't follow the same regulation. I think that will be where a big focus is.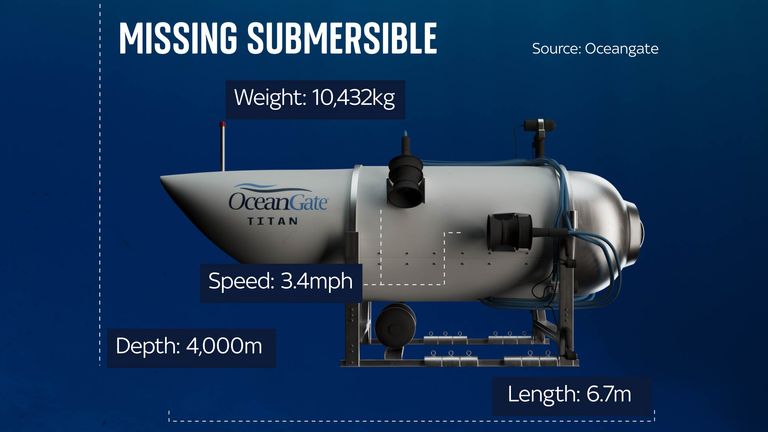 OceanGate, which owned the Titan submersible, said that those on board were "true explorers who shared a distinct spirit of adventure, and a deep passion for exploring and protecting the world's oceans".