The father of an NFL star has died in a suspected gas explosion at the player's home.
Robert Farley, the father of Tennessee Titans cornerback Caleb Farley, was killed in the blast at the property in Mooresville, North Carolina, on Monday night.
The $2m (£1.6m) home, which according to property records belongs to the player, was destroyed in the explosion, while a family friend was also injured and taken to hospital.
On Tuesday, the 24-year-old NFL star shared a picture of his father and posted a video of neighbours toasting his memory, with the caption: "Daddy, you a legend. I love you 4L (for life)."
The cause of the blast, which officials say originated in a bedroom of the property, is currently under investigation.
However, Kent Greene, director of Iredell County Fire Services and Emergency Management, said he believed that the blast was a gas explosion.
No foul play is suspected, the sheriff's office said.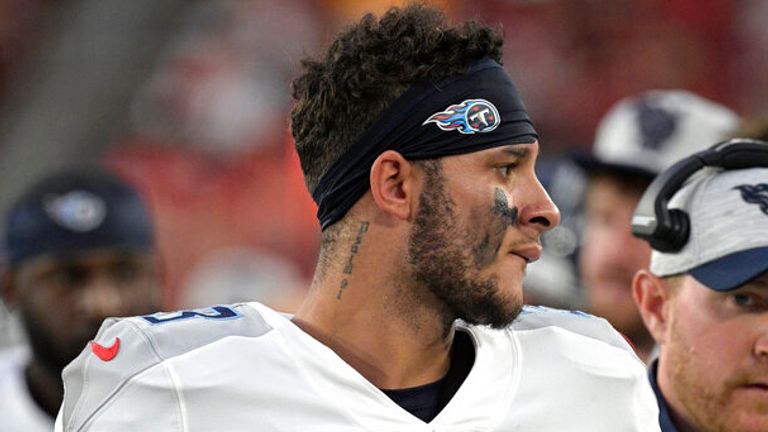 NFL star Farley was not home at the time of the explosion, but arrived at the scene on Tuesday after hearing of the news.
Family friend Christian Rogers, 25, who was seen leaving the collapsed structure in the aftermath of the explosion was taken to a local hospital with a concussion, according to Greene.
He is awake and alert, but has not yet been discharged, Greene added.
"There could not be anyone in it left alive – that was my first thought," he said.
"And when I found out someone did walk out of it, I was amazed. This was a 6,300-square-foot home, and there's nothing left but maybe a part of the garage."
Farley was picked by the Titans in the first round of the 2021 draft – the 22nd overall pick that year – and has so far played 12 games for the Tennessee side.
He suffered a back injury last November and remains unavailable for the Titans, who are set to finish their training camp this week ahead of the new NFL season.
Read more:
Former NFL star Alex Collins dies aged 28
NFL player who inspired movie sues family who took him in
Farley lost his mother to cancer in 2018 and in 2020, while playing at college level, became the first high-profile player to opt out of the season due to the coronavirus pandemic.
Titans coach Mike Vrabel told the team about Caleb Farley's loss during a training session in Nashville on Tuesday, and the players took a knee in an apparent prayer.
"That's the most important thing is to focus on him and … everything else is pretty trivial," he said after training.