Gwyneth Paltrow calls 'nepo baby' an 'ugly moniker' after daughter Apple starts modelling career | Ents & Arts News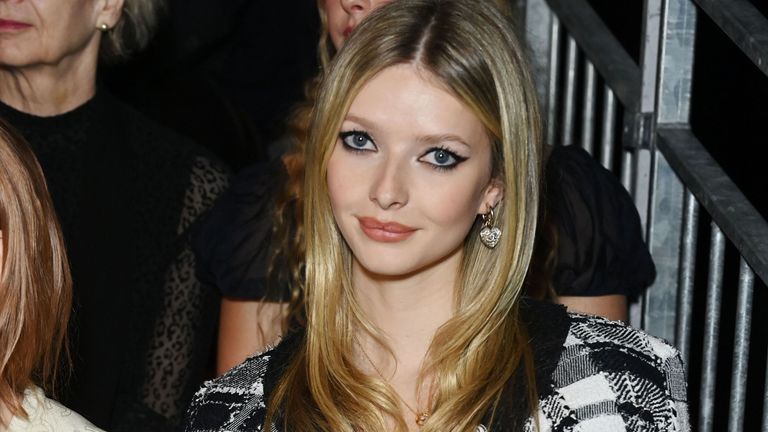 Gwyneth Paltrow has called the term 'nepo baby' an "ugly moniker" and supported her daughter for modelling for Chanel.
The Oscar-winning actress and businesswoman said in an interview that she hopes her children "feel free to pursue exactly what they want to do" without fear of judgement.
The phrase 'nepo baby' refers to the children of celebrities who have success in similar careers. Nepo is short for nepotism.
It went viral online last year as people realised a significant number of rising stars were related to established stars, such as Euphoria star Maude Apatow, who is related to director Judd Apatow, as well as others like Brooklyn Beckham (David and Victoria) and Jaden and Willow Smith, son and daughter of Will and Jada Pinkett Smith.
Speaking to Bustle magazine, Paltrow was asked about her daughter Apple Martin, whose father is Coldplay singer Chris Martin.
The 19-year-old model featured in Chanel's show at Paris Fashion Week in January, and the late designer Karl Lagerfield predicted Apple would be a "Chanel girl" at just four years old.
Paltrow said that there is a "whole nepo baby culture and judgement that exists around kids of famous people".
"She's really just a student, and… she just wants to be a kid and be at school and learn," the actress said.
"But there's nothing wrong with doing or wanting to do what your parents do. Nobody rips on a kid who's like 'I want to be a doctor like my dad and granddad'.
"The truth is, if you grow up in a house with a lot of artists and people making art and music, that's what you know, the same way that if you grow up in a house with law, the discussions around the table are about the nuances of whatever particular law the parents practice.
"I think it's kind of an ugly moniker. I just hope that my children always feel free to pursue exactly what they want to do, irrespective of what anybody's going to think or say."
Read more from Sky News:
MTV Europe Music Awards called off
Netflix hikes subscription prices by £2
Paltrow, who runs the lifestyle brand Goop, also said that while her daughter likes the brand and its products, she "doesn't want anything to do with it".
The Shakespeare In Love actress is the child of director Bruce Paltrow and actress Blythe Danner, who won two Emmy awards and a Tony.
At the start of the year, Paltrow supported Hailey Bieber, who is Alex Baldwin's niece, when she wore a shirt that said "nepo baby".
After the 26-year-old model posted a picture of her in the shirt on Instagram, Paltrow said: "I might need a few of these."