Hawaii wildfires: 'Loved by many' grandfather was one of the first to be identified after Maui blaze | US News
As the search for the hundreds of missing people on Maui continues, some of those who lost their lives in the deadly wildfires are slowly beginning to be identified, confirming their families' worst fears.
One of the first people to have been formally identified among the dead is Buddy L Jantoc, his granddaughter said.
Keshia Alaka'i told Sky News that she "broke down" when local police called her on Saturday to confirm that Mr Jantoc's remains had been found, following deadly wildfires which swept through the island in Hawaii on Tuesday.
"He would call me every time there was a tropical storm or heavy rain," she said. "When I didn't hear from him, I knew something was wrong."
Mr Jantoc, 79, lived in the Hale Mahaolu retirement home in Lahaina but Ms Alaka'i said she's heard nothing about whether there was an evacuation plan or not when the fires hit.
Mr Jantoc picked Lahaina to be "his forever home", she said, and had lived there for 30-plus years.
He was a well-known musician in the area, performing at the local bars, hotels and shopping malls.
"Besides his family, his other love was music", Ms Alaka'i said. "Music was his life. He played every instrument. His house was like a music store. He didn't really have a sofa, just guitars.
"Hawaiian music was his favourite. We all dance hula, and he would sing."
Read more:
Governor warns dozens more could be dead
Oprah Winfrey and camera crew turned away from Hawaii shelter
Dramatic before and after shots show impact of blaze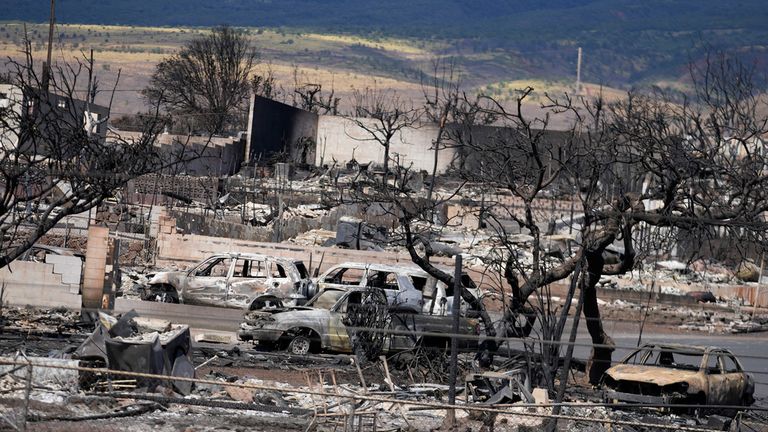 "He was loved by many", she added. "My papa was always the light of the party, kind, generous, never had a mean thing to say, he was always positive."
Ms Alaka'i said she doesn't know what condition her grandfather's body is in, but she plans to ask authorities to move his remains to Honolulu where she lives so her family can grieve his loss.
The heat of the fire was so intense it caused car tyres to burst, an evacuee told Sky News

"It hurts", she said. "The biggest frustration is that there was no warning, no sirens… I am broken, exhausted and frustrated."
Sky News has contacted the Maui Police Department and the Hale Mahaolu retirement home for comment.