Hollywood writers have voted almost unanimously on a deal to end their five-month strike that plunged the film and television industry into turmoil.
The Writers Guild of America announced that 99% of the 8,525 members who voted chose to ratify the deal.
The agreement includes major gains in payment, the number of staff on shows and control of artificial intelligence in scripts.
Hollywood writers' deal explained

"Together we were able to accomplish what many said was impossible only six months ago," Meredith Stiehm, president of the WGA West, said in a statement.
The Alliance of Motion Picture and Television Producers (AMPTP), which represents studios, streaming services and production companies in strike talks said the agreement reached "represents meaningful gains and protections for writers".
"It is important progress for our industry that writers are back to work," it added.
Meanwhile, the Screen Actors Guild-American Federation of Television and Radio Artists (SAG-AFTRA) continued their negotiations with studios this week nearly three months after their strike began.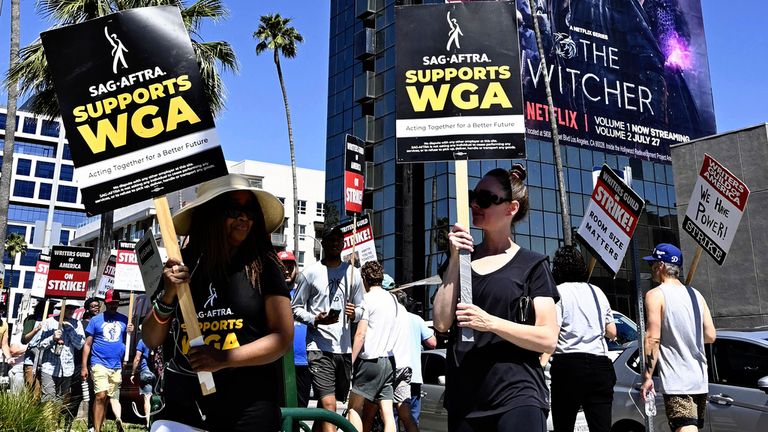 Talks restarted a week ago but are moving at a slower pace than the writers' union which engaged in marathon negotiations that continued during nights and weekends.
The leaders of the writers guild urged studios to grant actors' demands and said their members would picket alongside them until a deal was reached.
"Now it's time for the AMPTP to put the rest of the town back to work by negotiating a fair contract with our SAG-AFTRA siblings," said WGA East president Lisa Takeuchi Cullen.
The writers' new contract runs until 1 May 2026 – three years from the end of the previous contract and the date the strike started.
Click to subscribe to the Sky News Daily wherever you get your podcasts
After negotiations that involved the chiefs of Disney, Netflix and Warner Bros. Discovery, a tentative deal was struck on 24 September.
Two days later, when the board members voted to approve the agreement and send it to members, the strike was declared over and writers were released to work.
Late-night talk shows were back on air within a week with other shows, including Saturday Night Live soon to follow.
Read more on Hollywood strikes:
How much of a threat is AI?
UK film and TV workers forced to put homes up for sale
All TV shows and films affected by the strikes
But many film and TV productions remain in limbo with actors still on strike.
SAG-AFTRA are also demanding increases in pay and AI protections, plus other improvements to working conditions.
The dual strikes have cost the California economy close to $6bn (£4.9bn) in lost output, according to estimates, and left many crew members struggling financially.