Hurricane Idalia: Tree falls on Ron DeSantis' house moments after he warned people to stay safe | US News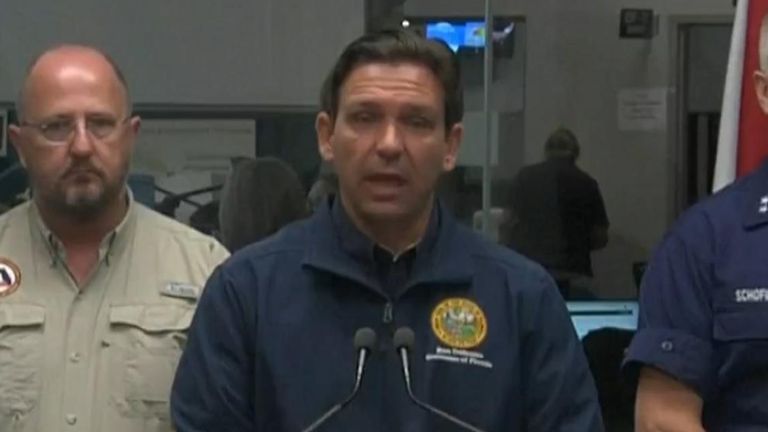 A 100-year-old oak tree has fallen on the governor of Florida's mansion as he warned people to stay safe during Hurricane Idalia.
Ron DeSantis' wife Casey has said family members were home at the time but nobody was injured.
"Our prayers are with everyone impacted by the storm", she said.
Mr DeSantis had moments earlier given a news conference where he said there had been no deaths as a result of the storm but warned people to stay safe.
He also said 250,000 homes are without power.
Idalia made landfall in Florida as a dangerous Category 3 storm and later crossed into Georgia still as a hurricane.
It was later downgraded to a Category 2 storm as its centre moved towards southern Georgia.
Hurricane Idalia latest – follow live updates
Idalia is now a Category 1 storm but has caused flooding with more water expected at high tide on Wednesday afternoon local time.
Mr DeSantis said during the news conference there have been no deaths as a result of the storm but urged people to stay safe.
"Don't put your life at risk by doing anything dumb at this point," he said. "This thing's powerful. If you're inside, just hunker down until it gets past you."
Florida Highway Patrol earlier said two men, aged 40 and 59, had died in separate "weather-related" crashes.
However, Mr DeSantis' comments suggest the deaths are not being attributed to Idalia.
Meanwhile, a senior Florida official has said businesses have caught fire, roofs have been blown off and two 911 centres temporarily went offline during the storm.
Power drops as Ron DeSantis gives briefing

The worst impacted city was Perry, where firefighters tackled two blazes and one house "potentially" collapsed, according to Kevin Guthrie, executive director of the Florida Division of Emergency Management.
Madison County has been hit hard too.
"They have a lot of debris on the ground and about 99% power outages," he said.
"A couple" of 911 centres went offline for approximately half an hour and there are some "minor backlogs" in the counties of Madison and Taylor, Mr Guthrie added.
"There is no one in distress who has not been taken care of."
Ken Welch, the mayor of St Petersburg in Florida, said parts of the city have been hit with about 4ft (1.2m) of storm surge.
He added more water is expected at high tide on Wednesday afternoon local time.
Read more US news:
Mitch McConnell freezes during press conference
How four Proud Boys planned to overthrow US democracy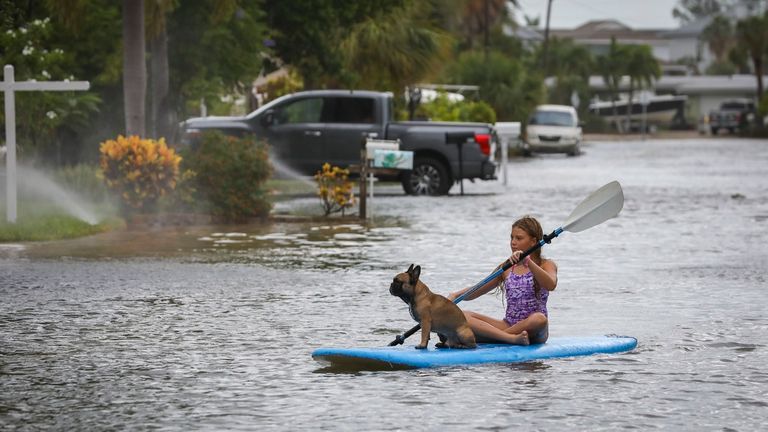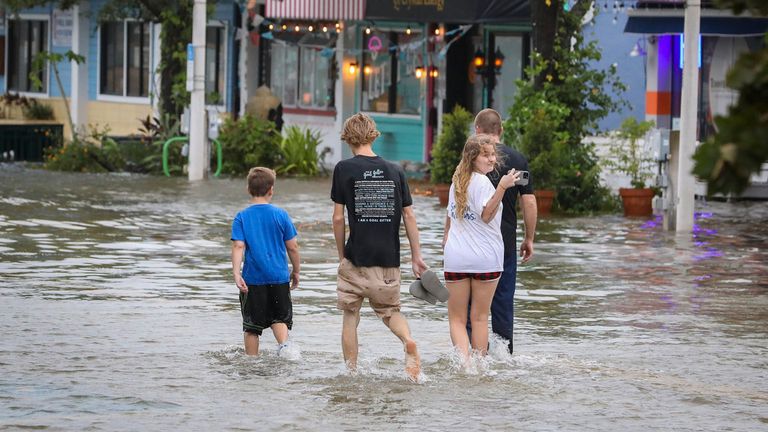 Mr Welch says there remains a risk from tornadoes and live downed power lines. No deaths in the city had been reported by late morning although some neighbourhoods were flooded.
Three major bridges, including the Sunshine Skyway across the mouth of Tampa Bay, remained closed.
"Make no mistake, this hurricane left its mark. The reality is we are not done dealing with the consequences of this major storm," Mr Welch said.
Images show floodwaters have submerged cars and left residential streets under water.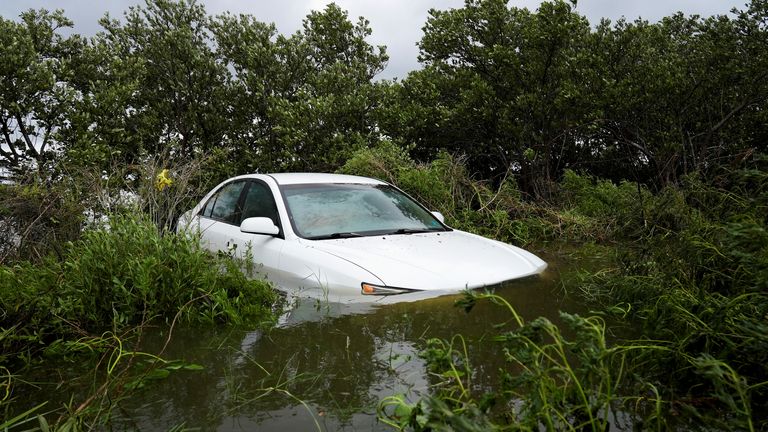 Meanwhile, Georgia Governor Brain Kemp has said between nine and 10 inches of rain has fallen in some areas of the state today.
He said some 61,000 people are currently without power.
Jonathan Porter, chief meteorologist at AccuWeather, said wind gusts of 60mph to 80mph could still do "a lot of damage" in Georgia, according to Jonathan Porter, chief meteorologist at AccuWeather.
He added that there are a lot of trees in the states affected that could come down and injure people or block roads.
Mr Porter said: "We don't want people to let their guard down here as this storm continues to be very dangerous.
"Just because the maximum sustained winds of the storm will be coming down, there is still going to remain a significant risk to people."