Inside Donald Trump's Miami golf resort: 'He's doing well' says son Eric, ahead of ex-president's court appearance | US News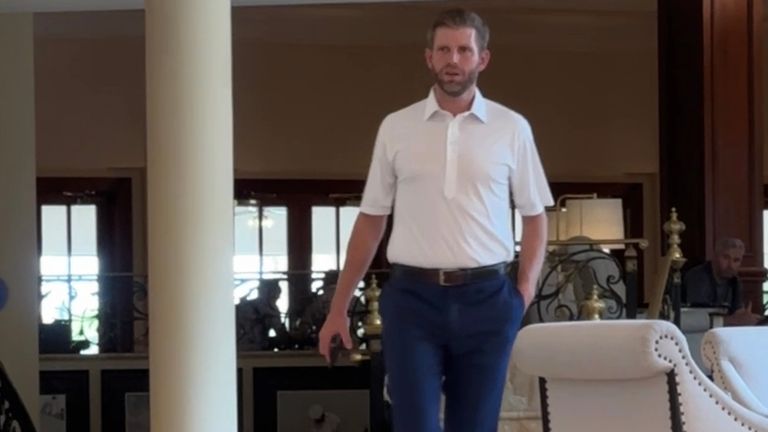 There is a strange energy inside Donald Trump's Miami golf resort.
It is the day of his unprecedented federal court appearance.
He is somewhere in the sprawling hotel and golf complex and he is firing out messages on his social media site, Truth Social.
"WITCH HUNT!" he writes in a single message. Then, "ELECTION INTERFERENCE".
Trump latest: Updates as former president to appear in court later on federal charges
Secret Service agents, recognisable by the bulges on their waist and earpieces, buzz around the lobby and the breakfast room.
A line of golf buggies with "do not use" signs on them suggest a VIP might be preparing for a few holes.
But unlike the day the extraordinary indictment was unsealed last week, there is no sign of Mr Trump on the course.
Instead, I spot his son having breakfast with a group of suited men. Eric is at the end of the table holding fort.
The Trump National Doral Miami is an 800-acre resort near the city's airport.
It has four golf courses and hundreds of rooms in a series of villas around the complex.
At the shops and the cafes, everything is Trump-branded. The water, the wine, the coffee, and, of course, the baseball caps.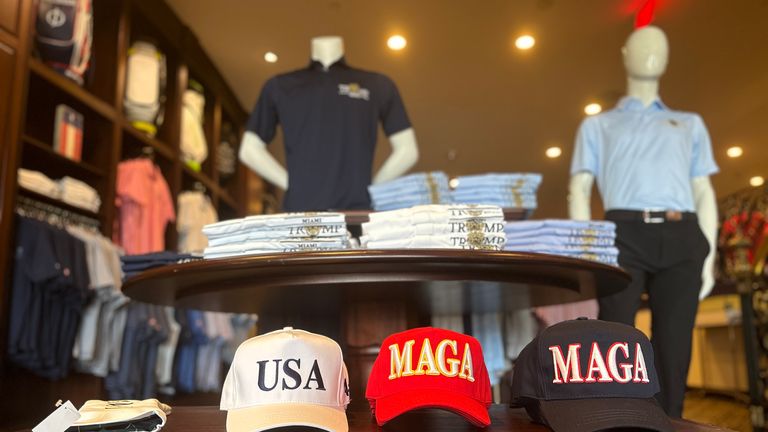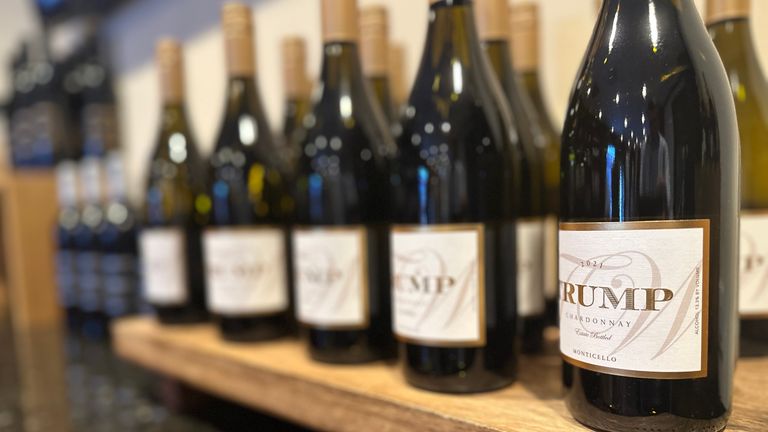 "How's your father doing today…" Eric was asked by Sky News.
"He's doing well thank you," he replied, as he toured the shops talking to staff.
By late morning the energy in the lobby has increased. More secret service agents.
There is a line of armoured SUVs outside. They have been joined by an ambulance – standard for the movement of any president or former president.
Trump set to appear in Miami court

Read more:
Donald Trump set to appear in Miami court on charges he stole classified documents
Donald Trump indictment 'shocking' and portrays him as a 'great threat' to US national defence
I watch one of Mr Trump's lawyers, Alina Habba arrive, head to the restaurant briefly, then leave again.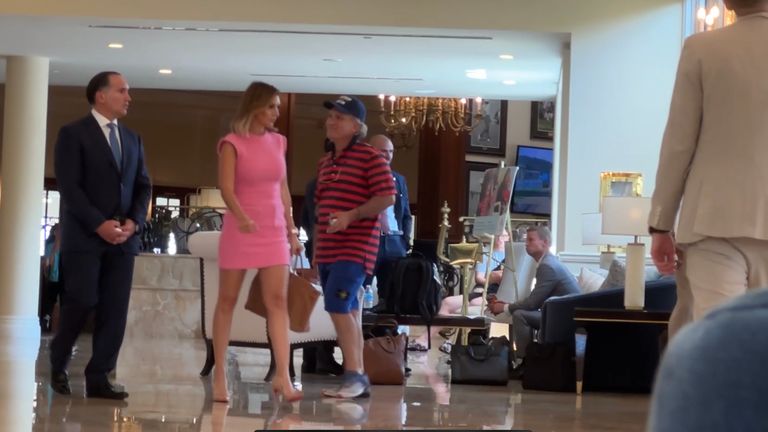 The hotel manager is hovering in the lobby.
The local Miami police have arrived too. The 'Miami Dade Special Response Division', according to their uniform.
Donald Trump arrived here on Monday ahead of the court appearance. He spent the night out of sight. His team is with him.
Close aide Jason Miller was in the bar with other members of the team at just after 9pm.
Nearby, one of the Trump supporters I had spotted earlier on the road outside the resort was having a drink. Another, in a Stars and Stripes hat, was moving around on a hoverboard.
It's surreal stuff ahead of this truly unprecedented spectacle – the moment the 45th President appears in federal court on espionage charges.