Joe Biden says Vladimir Putin has 'clearly committed war crimes' and says ICC's arrest warrant is 'justified' | World News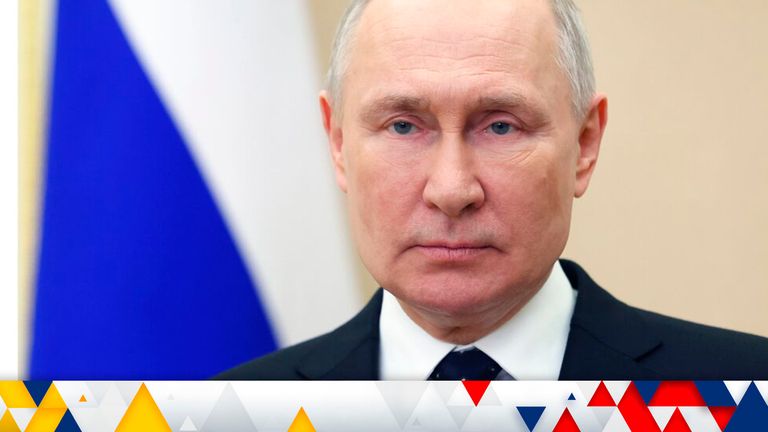 Joe Biden says Vladimir Putin has "clearly committed war crimes", after the Russian leader was made the subject of an arrest warrant by The International Criminal Court (ICC).
The US president also described the ICC's decision to issue the warrant as "justified".
It comes after the intergovernmental group – based at The Hague – accused Putin of being responsible for the abduction of children from Ukraine.
An arrest warrant was also issued for Maria Alekseyevna Lvova-Belova, Russia's commissioner for children, on similar allegations of war crimes.
The warrants mean if either stepped foot in one of the ICC's 123 member states that authorities in those countries would be obliged to arrest and transfer them to The Hague.
The Kremlin said Russia, which does not recognise the ICC, found the questions raised by the court as "outrageous and unacceptable".
But Mr Biden, speaking at a press conference on Friday, said: "He's [Putin] clearly committed war crimes.
"I think it's justified [the warrant]. But the question is – it's not recognised internationally by us either. But I think it makes a very strong point."
What Putin arrest warrant means

Ukraine war latest:
Updates in detail as judges issue warrant for Putin; new jets pledge
Though both Russia and the US were once signatories to the Rome Statute – the treaty that established the ICC – the US has never ratified the agreement, while Russia withdrew after the court's criticism of its 2014 annexation of Crimea.
Alongside the ICC arrest warrant, the US has separately concluded that Russian forces have committed war crimes in Ukraine.
"There is no doubt that Russia is committing war crimes and atrocities (in) Ukraine, and we have been clear that those responsible must be held accountable," a State Department spokesperson said.
Russia said the ICC's warrants were "null and void" as it does not recognise the court.
'Russia does not steal children'

Meanwhile, Ms Lvova-Belova said her arrest warrant validated her work "helping the children of our country".
The allegations come as Russia prepares to celebrate the ninth anniversary of its 2014 annexation of Crimea, which Putin is expected to mark with a "patriotic" rally at Moscow's Luzhniki Stadium this weekend.
What are the allegations?
In a statement, the court alleges the Russian president is "responsible for the war crime of unlawful deportation of population [children] and that of unlawful transfer of population [children] from occupied areas of Ukraine to the Russian Federation".
The ICC said its pre-trial chamber found there were "reasonable grounds to believe" that the two suspects are responsible for the alleged war crimes and that Putin "bears individual criminal responsibility".
Russia has brought thousands of Ukrainian children to Russia but has presented the programme as a humanitarian campaign to protect abandoned children and orphans in conflict zones.
Putin arrest warrant a 'historic moment'

Read our report from December:
CCTV shows chilling moment Russian FSB agents and soldiers scour Ukrainian orphanage for children
However, Sky News' international affairs editor Dominic Waghorn said the chances of Putin going on trial are low.
Assessing the warrants, Waghorn said there is "a long list of people" who have been indicted but never had their day in court.
"Unless the war goes very badly for him – he's toppled from power and he's handed over – it's unlikely he's going to face trial," Waghorn said.
How many children have been taken from Ukraine?
The exact number of children taken from Ukraine is unclear, with different organisations offering different estimates.
Waghorn said: "One respected human rights group in America estimates 6,000 children have been deported to Russia, the Ukrainians reckon it's more like 16,000, and the Russians themselves have said since 2014, 700,000 children have been taken from Ukraine."
Andriy Yermak, chief of the Ukrainian presidential staff, said Ukraine had cooperated closely with the ICC and was currently investigating over 16,000 cases of forced child deportation to Russia.
Arrest warrant makes diplomatic solution more problematic
Sky News was the first to reveal video evidence of Russian soldiers searching a place of sanctuary in Ukraine looking for children.
In December we broadcast chilling CCTV footage from an orphanage in Kherson where 15 children were taken at gunpoint by the Russian military and aired claims far younger children suffered the same fate in another orphanage nearby.
One independent study claims 6,000 children have been taken by the Russians, the Ukrainians say the true figure is more than twice that amount.
Throughout this war there have been repeated reports of children being abducted, kidnapped or simply persuaded to go with the Russians and never to return.
We have seen some children resurface in events in Russia some of them presided over by President Putin himself, paraded by the Russians claiming to have saved them from the war and the Ukrainian government that Moscow claims to be run by Nazis.
Those allegations are now the substance of International Criminal Court arrest warrants that go to the very top of the Russian government along with President Putin's children's rights commissioner Maria Lvova-Belova.
She has been seen on Russian state TV weeping, she says with joy, having adopted Ukrainian orphans that she claims to have saved.
She has been unashamed in boasting about what is happening to Ukraine's children. She claims to believe she is rescuing them.
Outside of Russia she is seen as running a system whereby Ukrainian children are effectively being trafficked into Russia.
The development is very significant. It makes far more problematic hopes that a diplomatic solution can be negotiated to this conflict.
It also puts pressure on countries who have been ambivalent about Russia's invasion abstaining in UN votes condemning it and colluding in Moscow's efforts to avoid sanctions.
Ukraine has managed to secure the return of 308 children so far.
ICC investigation of war crimes
In a press conference, the president of the ICC Piotr Hofmanski said the warrants were "an important moment in the process of justice".
He also said that the judges dealing with the case "determined there are credible allegations against these persons for the alleged crime".
Click to subscribe to Ukraine War Diaries wherever you get your podcasts
ICC prosecutor Karim Khan had opened an investigation a year ago into possible war crimes, crimes against humanity and genocide in Ukraine.
Mr Khan highlighted during previous trips that he was also examining the targeting of civilian infrastructure and alleged crimes against children, who have special protection under the Geneva Convention.
Ukraine is not a member of the court but has granted the ICC jurisdiction over its territory.
Ukrainian and international response
In his nightly address to the nation, Ukrainian President Volodymyr Zelenskyy called it a "historic decision, from which historic responsibility will begin".
"The head of a terrorist state and another Russian official have officially become suspects in a war crime," he said.
Zelenskyy reacts to Putin arrest warrant

Foreign Secretary James Cleverly welcomed the ICC warrant, which he said would "hold those at the top of the Russian regime, including Vladimir Putin, to account".
"Work must continue to investigate the atrocities committed," he wrote on Twitter.
White House National Security Council spokesperson Adrienne Watson said: "There is no doubt that Russia is committing war crimes and atrocities in Ukraine, and we have been clear that those responsible must be held accountable."
Josep Borrell, the EU's representative for foreign affairs and security policy, said the warrants are "just the start of holding Russia accountable for crimes and atrocities in Ukraine".