Lisa Marie Presley's daughter Riley Keough shares picture of the last time they were together | Ents & Arts News
Lisa Marie Presley's daughter has shared a picture of the pair together, taken the last time they saw each other before her death.
Lisa Marie, a singer and the only child of rock and roll legend Elvis, died at the age of 54 after suffering a cardiac arrest at her home in Calabasas, California, earlier in January.
Two days before her death, she had appeared with her mother, Priscilla Presley, at the Golden Globes.
Following a memorial held at the weekend, her daughter, actress Riley Keough, has shared a picture in tribute to her mother on Instagram.
"I feel blessed to have a photo of the last time I saw my beautiful mama," she wrote. "Grateful [actress] @georgieflores took this."
Presley is survived by Riley and her mother, and twin daughters Finley and Harper Lockwood. Her son, Benjamin Keough, took his own life in 2020, aged 27.
Stars attend Graceland memorial
Sarah, Duchess of York, Axl Rose, Alanis Morissette and The Smashing Pumpkins' Billy Corgan were among the mourners and performers at her memorial service, held at Graceland Mansion in Memphis, Tennessee.
For years, the sprawling estate has been the destination for those paying tribute to Elvis, but following her death the iconic home became the venue for those saying a final farewell to his daughter.
At the ceremony, Riley's husband Ben Smith-Petersen, an actor and stuntman, read an emotional tribute she had written.
Part of the letter read: "I hope I can love my daughter the way you loved me, the way you loved my brother and my sisters.
"Thank you for giving me strength, my heart, my empathy, my courage, my sense of humour, my manners, my temper, my wildness, my tenacity. I'm a product of your heart, my sisters are a product of your heart, my brother is a product of your heart."
Elvis is also buried at Graceland, as are his parents, his paternal grandmother, and Benjamin Keough.
Lisa Marie's final resting place is next to her son and near to her father, who died from heart failure aged 42 when she was aged just nine.
Read more:
The tragic life of Lisa Marie Presley
Nicolas Cage pays tribute to ex-wife
Stars attend memorial at Graceland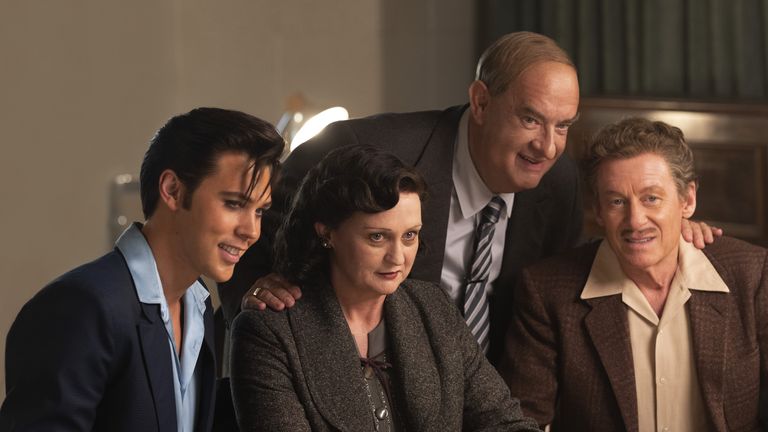 Lisa Marie was married four times, including to pop star Michael Jackson and actor Nicolas Cage. Cage, along with actors John Travolta and Tom Hanks – who stars in the recent Elvis biopic – were among those paying tribute after her death.
She had struggled with opioid addiction following the birth of her twin daughters in 2008.
Just months before her death she wrote in an essay for People magazine: "I've dealt with death, grief and loss since the age of nine years old.
"I've had more than anyone's fair share of it in my lifetime and somehow, I've made it this far."
She went on: "Death is part of life whether we like it or not – and so is grieving."