Martin Luther King Jr: Thousands gather on National Mall to mark the March on Washington's 60th anniversary | US News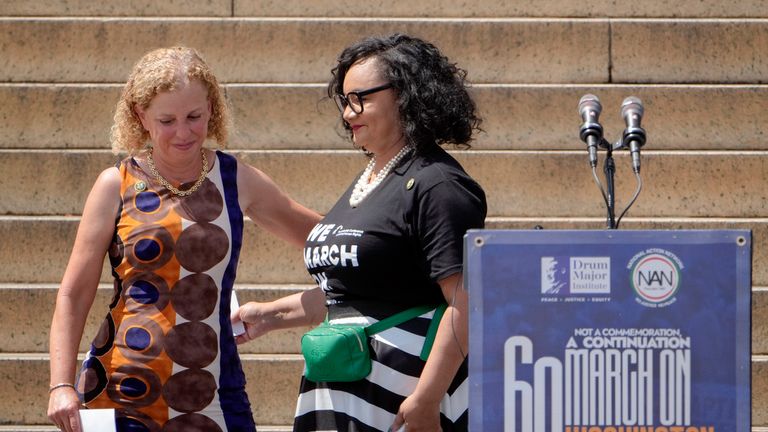 Thousands of people came together at the National Mall to remember the 60th anniversary of Martin Luther King Jr's March on Washington.
But they say that even after all this time, the US is still driven by racial inequality, and King's dream has not yet come true.
Alphonso David, the leader of the Global Black Economic Forum, said at the march on Saturday: "We have made progress, over the last 60 years, since Dr King led the March on Washington.
"Have we reached the mountaintop? Not by a long shot."
The event was organised by the Kings' Drum Major Institute and the Rev Al Sharpton's National Action Network.
Many leaders fighting for Black civil rights and a diverse group of allies joined together at the same place where around 250,000 people gathered in 1963 for one of the most important demonstrations in US history for fairness and equal rights.
During the event, King made his "I have a dream", speech, one of the most famous pieces of oratory in history.
Saturday's event had many differences from the original march. Speakers talked about the rights of LGBTQ and Asian American people, while more women had the chance to speak compared to 1963 when only one woman spoke.
Pamela Mays McDonald from Philadelphia was at the first march when she was a child.
"I was eight years old at the original March and only one woman was allowed to speak – she was from Arkansas where I'm from – now look at how many women are on the podium today," she said.
For some people, the differences were bittersweet.
Marsha Dean Phelts from Florida said: "I often look back and look over to the reflection pool and the Washington Monument and I see a quarter of a million people 60 years ago and just a trickling now. It was more fired up then. But the things we were asking for and needing, we still need them today."
As speakers shared their messages, the noise of aeroplanes taking off from Ronald Reagan National Airport could be heard. People were also playing rugby and jogging nearby.
On Friday, Martin Luther King III and his sister, Bernice King, visited their father's monument in Washington. Bernice said: "I see a man still standing in authority and saying, 'We've still got to get this right'."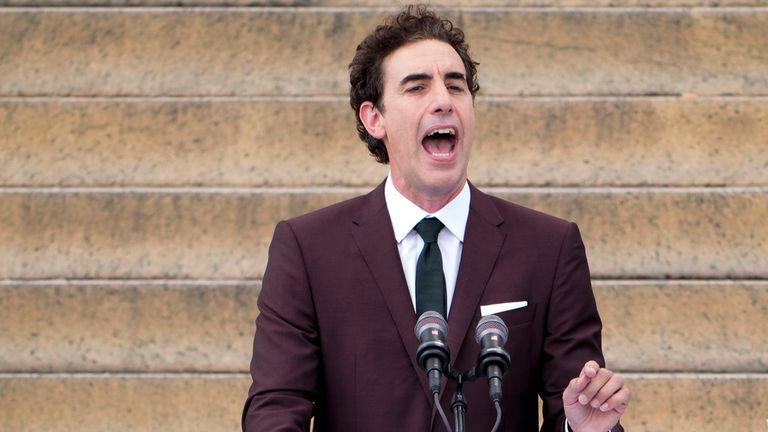 Speakers included actor Sacha Baron Cohen and Ambassador Andrew Young, who was an important adviser to King and helped organise the original march. He also served as a congressman, UN ambassador, and mayor of Atlanta. Leaders from the NAACP and the National Urban League were also expected to speak.
Some leaders from the organising groups met with attorney general Merrick Garland and assistant attorney general Kristen Clarke from the civil rights division on Friday. They talked about many issues, like voting rights, policing, and redlining.
Saturday's gathering leads up to the real anniversary of the March on Washington, which happened on 28 August 1963.
Read more:
Two injured at US baseball game
Trump booked on 13 election fraud charges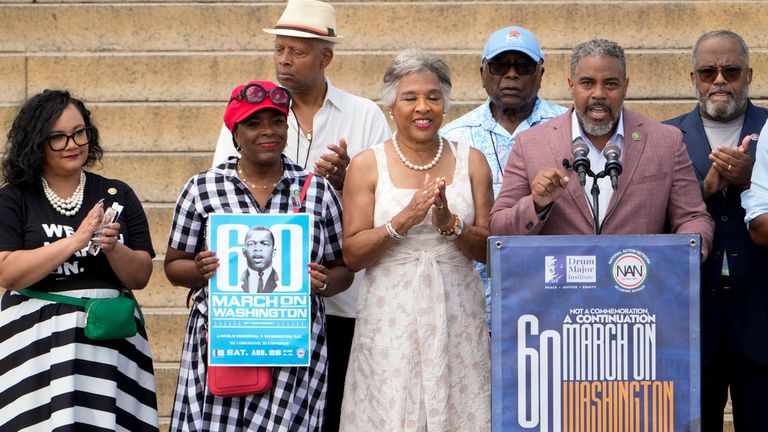 President Joe Biden and Vice President Kamala Harris will mark this anniversary on Monday by meeting with people who organised the 1963 march. All of Martin Luther King Jr's children were invited to meet with Mr Biden too, according to the White House.
For Rev Al Sharpton, founder of the National Action Network, honouring March on Washington anniversaries is a pledge he made to Coretta Scott King, the matriarch of the King family. She introduced him to King III at a march 23 years ago and encouraged them to uphold the legacy.
"Never did I imagine that 23 years later, Martin and I, alongside Arndrea, would lead a march with fewer civil rights protections than in 2000," Rev Sharpton noted, referring to King III's wife, Arndrea Waters King.