Pink has postponed two shows this weekend after a respiratory infection left her unable to perform.
The US singer-songwriter said she was "deeply sorry" that doctors had advised her not to take to the stage on Friday and Saturday after she was hit by the illness.
Organisers were working on rescheduling the shows, she said in an Instagram post, adding that she was "very much looking forward to performing in Vancouver and putting on an incredible show for everyone."
It is the third time in a month the Raise Your Glass star has pulled out of shows during her Summer Carnival 2023 world tour.
Pink cancelled concerts in Tacoma, Washington, US, on Tuesday and Wednesday, telling fans "family medical issues require our immediate attention".
At the end of September, the 44-year-old axed a show at the Globe Life Field in Arlington, Texas due to a "bad sinus infection".
The star, real name Alecia Moore, posted on Instagram: "I am so disappointed. You know I do everything in my power to never miss a show."
The star said the show would be rescheduled for later in November, promising it would be "phenomenal" and apologising to fans for any inconvenience caused.
Some fed-up fans voiced their frustration over the cancellations, with one posting: "It's a pattern now and people spend thousands to be at that place at that time."
Another said: "Blah, blah, blah…family issues and screw the fans…especially the ones from other cities who have already booked flights and hotels."
However, many expressed their sympathy, with one posting: "Excitement to see a show is never more important than you and your family's wellbeing.
"Get well soon and we will see you when you feel better!".
One fan added: "Many people don't realise how taxing a world tour is on artists. Mental and physical health first and family as well."
Read more:
MTV Europe Music Awards cancelled due to Israel-Hamas war security fears
Revealed: The most played female artists of the 21st century
Ed Sheeran pulls out of Las Vegas show over 'flooring issues'
Pink brought her entourage to London for two nights in June last year as part of the UK and Europe leg of the tour.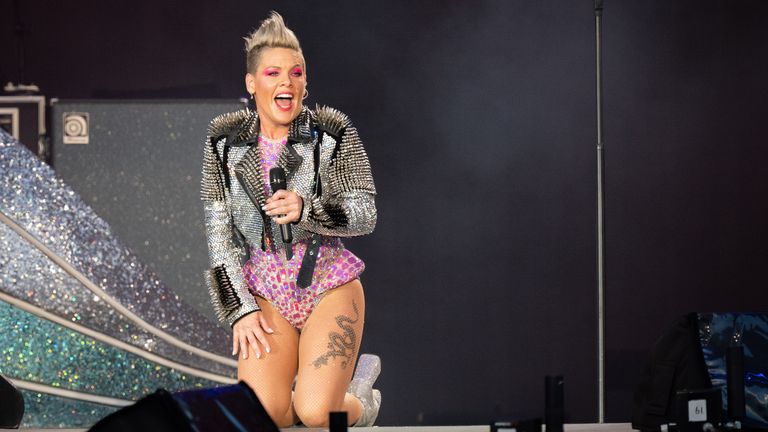 She was left stunned after a fan threw their mother's ashes on stage as she belted out a rendition of her hit, Just Like A Pill, at the BST Hyde Festival.
The star has concert dates scheduled in the US and Canada until the end of November, before jetting to Australia and New Zealand ahead of the conclusion of the tour in March.