'Raise the black flag': How four Proud Boys secretly planned to overthrow American democracy | US News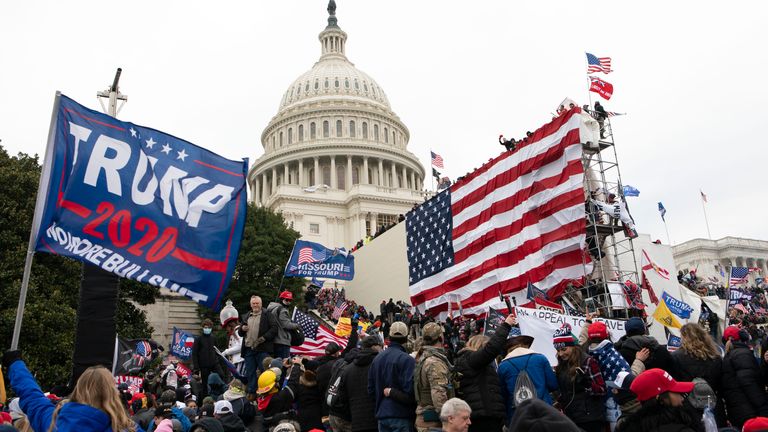 "No quarter. Raise the black flag."
Enrique Tarrio is raging online about President Joe Biden's election victory. It's November 2020, a couple of months before the January 6 insurrection.
But Tarrio isn't just an angry Donald Trump supporter posting on the internet. He's the leader of the right-wing Proud Boys group with perhaps thousands of members ultimately reporting to him.
He wanted Mr Trump to remain in office, warning of a second civil war. So he and others hatched a plan, one that culminated in the storming of the Capitol on 6 January 2021.
A series of documents and messages, revealed by prosecutors at trial, shows the lengths they went to: from secret text chains to planning 50-man teams to occupy buildings in the capital.
Tarrio and his associate Ethan Nordean, another senior Proud Boy, will now be sentenced today after being found guilty of seditious conspiracy, a rare charge carrying up to 20 years in prison.
Two others – Joseph Biggs and Zachary Rehl – will be sentenced tomorrow for the same charge.
The sentencing comes the same month as Mr Trump was charged in the US state of Georgia with trying to illegally overturn the 2020 election.
Sky News reveals below exactly how the four men planned to overthrow democracy and asks a key question: are the Proud Boys still a threat?
Trump: 'Proud Boys, stand back, and stand by'
Formed during the alt-right explosion of 2016, the exclusively-male Proud Boys regard themselves as "Western chauvinists" who "refuse to apologise for creating the modern world".
Variously described as a street gang, a hate group or "kids who were picked last at kickball", the Proud Boys have been designated as a terror group in two countries – Canada and New Zealand.
The group's roots are as a "boys drinking club", Katherine Keneally, an expert on political violence at the Institute for Strategic Dialogue, tells Sky News.
"But what we saw, especially with the emergence of Trump, is this shifted from it being a drinking club to them going out on the streets, particularly at COVID-related protests, racial justice protests, and engaging in violence with protesters."
As the movement grew, dozens of chapters of the Proud Boys sprang up in the majority of US states.
Trump to Proud Boys: 'Stand back, and stand by'

The watershed moment came in September 2020, and the infamous line from Trump live on television: "Proud Boys, stand back and stand by."
This caused an immediate shift in their behaviour, Ms Keneally says, with the group emboldened by the belief that they had support from the President.
"They had already been garnering public support leading up to January 6, and that helped them translate to them actually directing people unaffiliated with the Proud Boys during the insurrection."
"They viewed themselves as the president's own military in some respects," she added.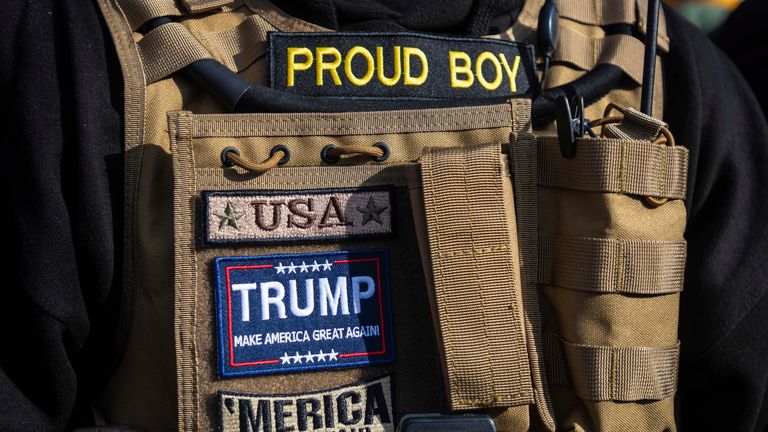 The plan for January 6
"Fill the buildings with patriots and communicate our demands," the plan says.
This is the incendiary '1776 Returns' document, a secret Proud Boys internal plan prosecutors say was sent to Tarrio.
Its stated goals include maintaining control "over a select few, but crucial buildings in the DC area for a set period of time" and getting as "many people as possible inside these buildings".
"These are OUR buildings, they are just renting space," the document reads. "We must show our politicians We the People are in charge."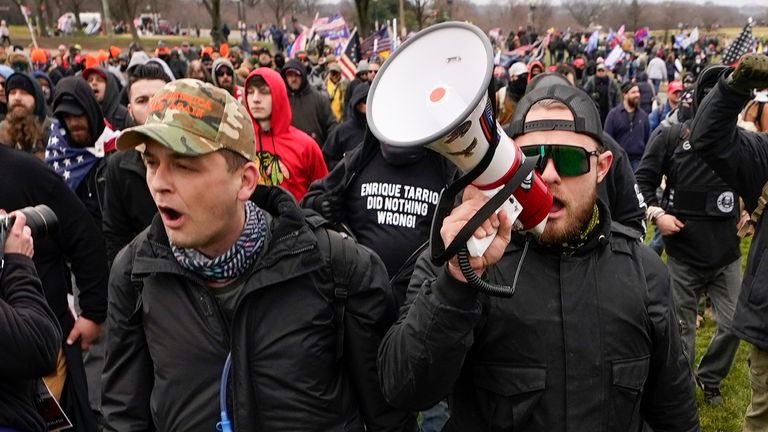 The document set out plans in detail for how Proud Boys would occupy buildings, with specialist roles given to leads ("covert sleeper"), "hypeman" and "recruiter".
"Have leads and seconds open the doors for the crowd to enter," it says. "This might include causing trouble near the front doors to distract guards who may be holding the doors off."
Readers are instructed to use COVID-19 to their advantage by wearing face coverings to protect their identities.
Prosecutors say that Tarrio was sent the 1776 Returns document by an unnamed individual, who told him: "The revolution is more important than anything."
Tarrio responded: "That's what every waking moment consists of… I'm not playing games."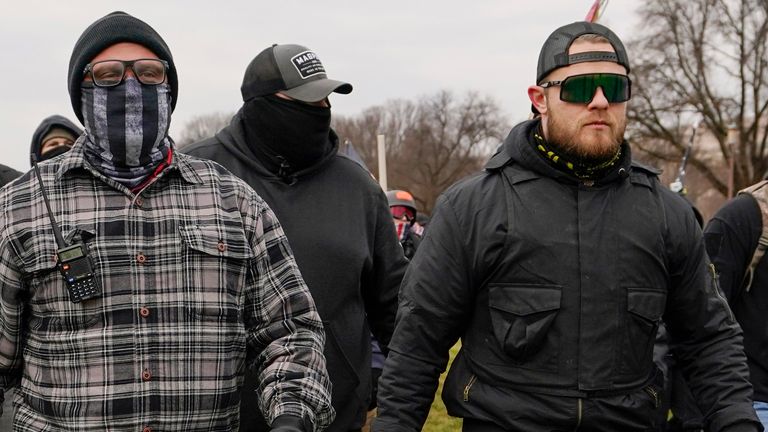 What happened at the Proud Boys trial?
Tarrio, Nordean, Biggs and Rehl along with a fifth defendant, Dominic Pezzola, were put on trial charged with conspiring to oppose the lawful transfer of presidential power by force (seditious conspiracy) and a number of other charges in relation to January 6.
In his 80-minute opening statement, assistant US attorney Jason McCullough said in the days after the 2020 election the defendants had started "calling for action, calling for war, if their favoured candidate was not elected."
Alluding to Mr Trump's remark, the prosecutor added: "They did not stand back. They did not stand by. Instead, they mobilised."
The indictment laid out how Tarrio, enraged at President Biden's victory, posted on social media in November 2020: "F*** unity. No quarter. Raise the black flag."
Associated with military conflict, the phrase 'no quarter' suggests that enemy combatants should be killed rather than taken prisoner.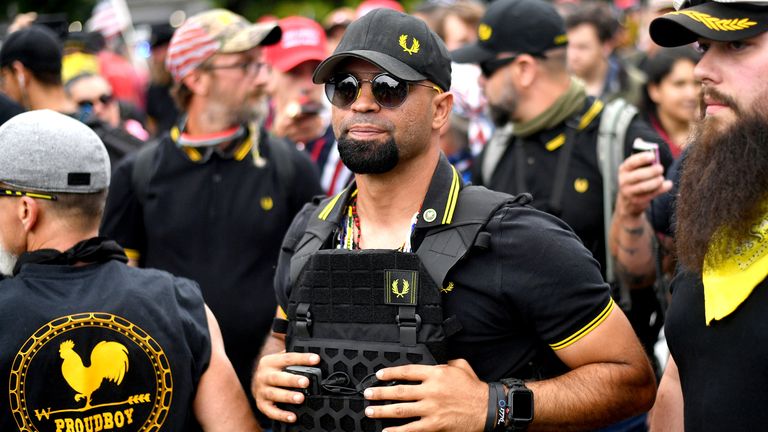 The jury heard how after the election Tarrio posted on social media that the presidency was being stolen and vowed his group wouldn't "go quietly".
Mr McCullough also cited messages from Tarrio on January 6, including: "Make no mistake… We did this."
"Those are his words, his thoughts, just minutes after Congress had been forced to stop its work," McCullough said. "They did what they'd set out to do."
And while Tarrio himself wasn't at the Capitol on the day of the insurrection, he messaged with members throughout the riot, prosecutors said.
'Their commander-in-chief sold them a lie'
Defence lawyers denied their clients planned or led an attack on the Capitol and suggested they were being targeted for their political beliefs.
Tarrio's attorney, Sabino Jauregui, told jurors his client was being made a scapegoat because he "wrote and sent a lot of offensive things".
"Speaking what you think is not illegal in this country yet," he continued, before he closed with a quote from Martin Luther King Jr: "Injustice anywhere is a threat to justice everywhere."
Rehl's lawyer, Carmen Hernandez, said her client came to the nation's capital simply to protest. "I submit to you that Mr Rehl came to DC to exercise his First Amendment rights," she told the jury.
Nick Smith, a lawyer for Nordean, who led a Proud Boys chapter in Washington state, told jurors they would see no evidence of a "complicated, long-running plot".
"What you will see in the Telegram chats is a bunch of text messages that are tempting you to find guilt based on your dislike of these people," he said. "Do not take the bait."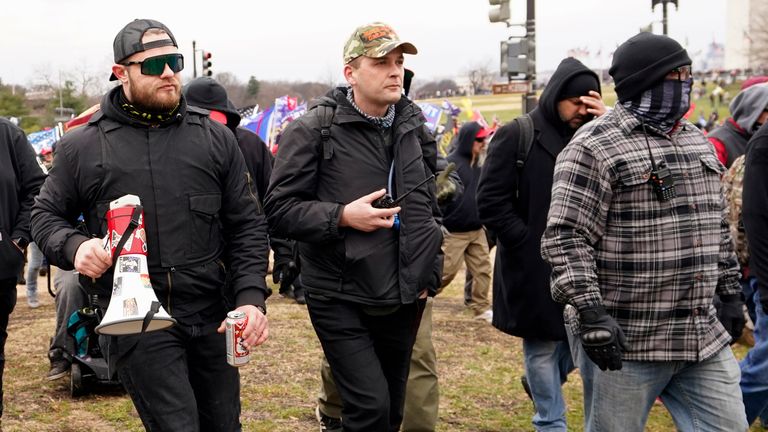 Norm Pattis, a lawyer for Joe Biggs, said the defendants came to Washington because their "commander-in-chief" told them it would "be wild", referring to Mr Trump's infamous tweet that called on supporters to come to Washington on January 6.
"Their commander-in-chief sold them a lie," he said.
Pezzola's lawyer, Roger Roots, downplayed the attack on the Capitol, which temporarily halted the counting of Electoral College ballots.
"Believe it or not, this entire case is about a six-hour delay of Congress," Roots told the jury. "The government makes a big deal out of this six-hour recess."
Guilty of seditious conspiracy
Tarrio, Biggs, Nordean and Rehl were found guilty of seditious conspiracy and conspiracy to obstruct an official proceeding.
Pezzola was cleared of seditious conspiracy and a jury could not reach an agreement on the charge of conspiracy to obstruct an official proceeding.
Pezzola, who was caught on video smashing in a window with a Capitol Police shield during the riot, was separately charged with stealing the police shield and found guilty.
He was also convicted of assaulting, resisting or impeding certain officers, while the four other defendants were acquitted on that charge.
The judge declared a mistrial in respect of various other counts in the trial upon which the jury did not reach conclusions.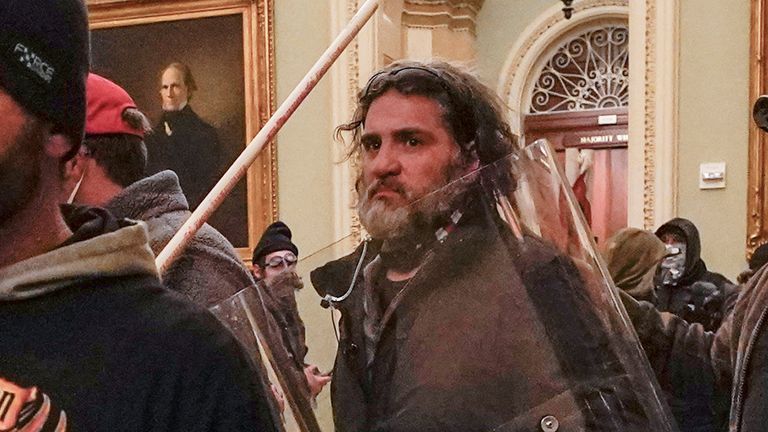 How big are the Proud Boys now?
With the next US presidential election barely a year away some are asking if we are likely to see a repeat of the violent scenes of January 6… or another attempt to overturn the result if Mr Trump is not the victor.
Are the Proud Boys still a threat to American democracy?
Their numbers have grown dramatically since 2020, reaching 78 chapters in 2022, according to the Southern Poverty Law Center organisation.
But that may not tell the whole story, as it does not necessarily mean that the number of Proud Boys members has increased, experts say.
"I think many would have expected the Proud Boys to kind of fade away by now," Colin P Clarke, director of research and an expert on domestic terrorism at the Soufan Group, tells Sky News.
"But there seems to be a real sense of pride in pushing forward with all their different activities, and they've positioned themselves as a player in the culture wars more broadly."
However Colin Beck, a professor at Pomona College and an expert in social movements, said that while the Proud Boys brand may have continued to spread, the amount of support may have decreased.
"There's now a real cost," he tells Sky News. "If you go to a Proud Boys event you might end up in jail.
"The US federal government is very good at suppressing protests when it chooses to do so."
Trump 'abandoned' the Proud Boys
Another factor, Katherine Keneally says, is the Proud Boys have in many ways distanced themselves from Mr Trump and feel "betrayed" by him.
She pointed to fears of Proud Boys protests over the indictment of the former president which did not come to pass.
"He wasn't helping fund their legal efforts. He just sort of abandoned them," she said. "So there has been this distrust that's been happening with Trump."
Watch US Justice Department special counsel Jack Smith's statement here.

Asked about the future, she doubts there will be a repeat of January 6 as Proud Boys are now focussing much more on local action and running for local office.
"I'm not actually worried about the Proud Boys," Ms Beck says. "In some ways they're like the has-beens."
"It's who the Proud Boys become next…what is the group that emerges?
"Because all the people who are adherents or sympathetic, they don't go away. They just move on to something else."
Mr Clarke raised the idea the Proud Boys could act as a "feeder" or "preparatory school" for more extreme groups.
Asked how likely a repeat of the Capitol insurrection is if a Democrat wins in 2024, Mr Clarke said: "We have to learn from January 6 that when these guys say that they're going to do something, we have to take them seriously and prepare for it."