Robert F Kennedy Jr's family condemn him over COVID remarks branded racist and antisemitic | US News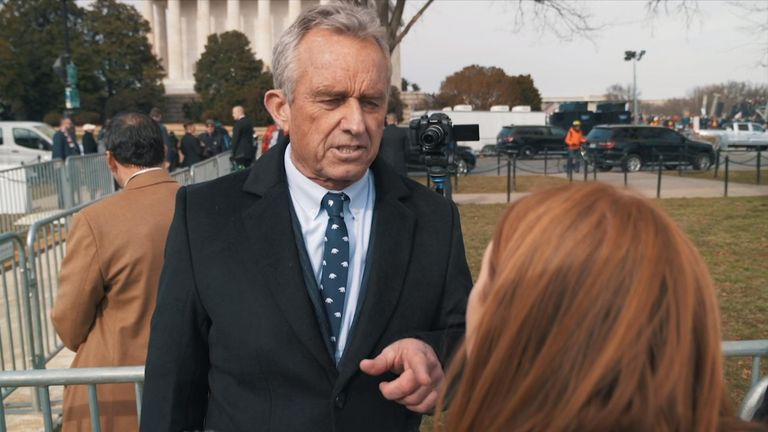 US presidential hopeful Robert F Kennedy Jr has been condemned by family members and the White House for saying COVID was targeted to attack Caucasians and black people.
Speaking at a recent dinner in New York, Mr Kennedy said "there is an argument" that COVID "is ethnically targeted" and that it "attacks certain races disproportionately".
"COVID-19 is targeted to attack Caucasians and black people. The people who are most immune are Ashkenazi Jews and Chinese," he added in a video first published by The New York Post.
"We don't know whether it was deliberately targeted at that or not but there are papers out there that show the racial or ethnic differential of impact for that."
The nephew of the assassinated former president John F Kennedy is a prominent anti-vaxxer and has previously faced rebuke for comparing vaccine mandates to the Holocaust.
His recent comments prompted widespread accusations of antisemitism and racism.
On Monday, Kerry Kennedy issued a statement saying "I strongly condemn my brother's deplorable and untruthful remarks last week about COVID being engineered for ethnic targeting".
Mr Kennedy's nephew Joe Kennedy III, US special envoy to Northern Ireland, also spoke out against the remarks, writing: "My uncle's comments were hurtful and wrong. I unequivocally condemn what he said."
Mr Kennedy is challenged by a Sky reporter

Read more:
Who is Robert F Kennedy Jr?
Most famous US political family produces leading COVID anti-vaxxer
After the video was made public, Mr Kennedy posted on Twitter that his words were twisted and denied ever suggesting COVID was deliberately engineered to spare Jewish people.
He asserted without evidence that there are bioweapons being developed to target certain ethnicities, and called for the Post's article to be retracted.
Researchers and doctors pushed back on the assertion, including Michael Mina, a medical doctor and immunologist.
"Beyond the absurdity, biological know-how simply isn't there to make a virus that targets only certain ethnicities," Dr Mina wrote on Twitter.
Asked about the video on Monday, White House press secretary Karine Jean-Pierre said Mr Kennedy's claims were false and "vile" and that "they put our fellow Americans in danger".