The Killers apologise after being booed for bringing Russian fan on stage at Georgia gig | Ents & Arts News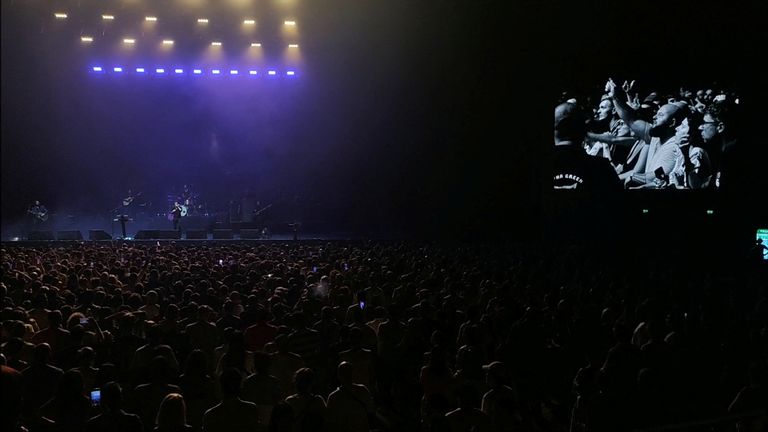 The Killers have issued an apology after lead singer Brandon Flowers was booed for bringing a Russian fan on stage to play the drums at a concert in Georgia.
The Las Vegas-formed rock band were at the Black Sea resort of Batumi on Tuesday as part of their European tour when Flowers invited the drummer to help them perform For Reasons Unknown.
In footage shared on social media, Flowers can be heard saying to the crowd: "We don't know the etiquette of this land but this guy's a Russian. You okay with a Russian coming up here?"
There was a mixed reaction from the audience – and after the song, Flowers spoke about the separation of people by the borders of their countries, and asked the crowd: "You can't recognise if someone's your brother? He's not your brother?"
He went on: "Am I not your brother, being from America?"
"One of the things that we have come to appreciate about being in this band is it brings people together, and tonight I want us to celebrate that we are here together," he said.
"And I don't want it to turn ugly. And I see you as my brothers and sisters."
The incident prompted some people to reportedly leave the gig early in protest.
Georgia gained independence from Soviet rule in April 1991, and in August 2008 Russian forces invaded the country after which Moscow gained control of two breakaway regions, Abkhazia and South Ossetia.
Tensions have heightened since Russia's invasion of Ukraine and a subsequent influx of Russians escaping their country. Georgian public opinion is overwhelmingly pro-Ukrainian.
The Killers later apologised, saying "it was never our intention to offend anyone".
Read more:
Ashton Kutcher and Mila Kunis post California beach house on Airbnb
Madonna to kick off rescheduled world tour after health scare
In a statement posted on X (formerly Twitter) on Wednesday, the band said: "We recognise that a comment, meant to suggest that all of the Killers' audience and fans are 'brothers and sisters' could be misconstrued.
"We did not mean to upset anyone and we apologise.
"We stand with you and hope to return soon."