Tornado and storms kill 10 as it tears through southern US states during 'supercell' storm | US News
At least 10 people have died after a powerful tornado ripped through several southern US states, destroying buildings and knocking out power.
Severe storms hit Mississippi, Alabama and Texas on Friday, producing hail the size of golf balls and prompting authorities to warn residents they were in a "life-threatening situation".
The National Weather Service issued an alert to people in the path of the tornado and said: "To protect your life, TAKE COVER NOW!"
"You are in a life-threatening situation. Flying debris may be deadly to those caught without shelter… Considerable damage to homes, businesses, and vehicles is likely and complete destruction is possible."
The tornado caused destruction in the rural Mississippi towns of Silver City and Rolling Fork on Friday night before continuing sweeping northeast towards Alabama at 70mph.
In Texas, two tornadoes with 100mph winds struck around 5am on Friday, leaving five people injured.
Mississippi governor Tate Reeves said on Twitter that search and rescue teams were active and officials were sending more ambulances and emergency resources to those affected.
Shelters were opened for those whose homes were damaged by the storm.
In Rolling Fork town, people were trapped in piles of rubbles and damage had caused gas leaks, local newspaper Vicksburg News reported the Sharkey County Sheriff's Office as saying.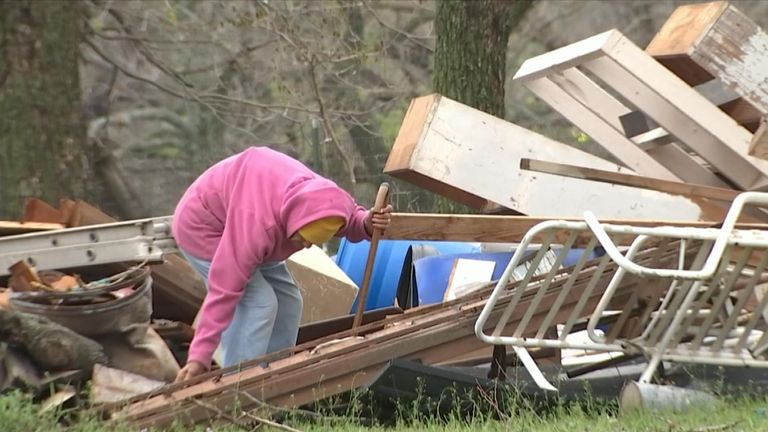 Read more:
Rare tornado strikes LA suburb as 'bomb cyclone' smashes US
California floods: Atmospheric river brings snow, strong winds and flooding
The storm was a "supercell", which brews the deadliest tornadoes and most damaging hail, said University of Northern Illinois University meteorology professor Walker Ashley.
Friday's storm was a night time, wet one which is "the worst kind", he said.
Earlier on Friday a car was swept away and two passengers drowned in Missouri during torrential rain that was part of a severe weather system.
By early Saturday, tornado watches remained in parts of eastern Mississippi and in northern Alabama, according to the weather service. Earlier, those watches covered almost all of Mississippi.