A woman has been left in a critical condition after she was attacked by a shark off one of New York City's most popular beaches.
The woman was attacked at Rockaway Beach at around 5.50pm yesterday, according to the New York Police Department's public information office.
She remained in critical condition at Jamaica Hospital Medical Center late last night, spokesperson Michael Hinck said, according to NBC News, Sky News' US partner network.
The woman was a 50-year-old swimmer bitten on her left leg, according to the city's Department of Parks and Recreation.
Lifeguards cleared the beach after the attack as police in a helicopter searched unsuccessfully for the shark, the department said.
Authorities will continue to monitor the area for sharks, it added.
"We hope for a full recovery for this swimmer," the department said.
"Though this was a frightening event, we want to remind New Yorkers that shark bites in Rockaway are extremely rare."
Read more about sharks:
Cocaine dumped in the sea could have 'crazy' consequences for sharks
Tiger shark mauls man to death off Red Sea coast
Man killed in shark attack at Australian beach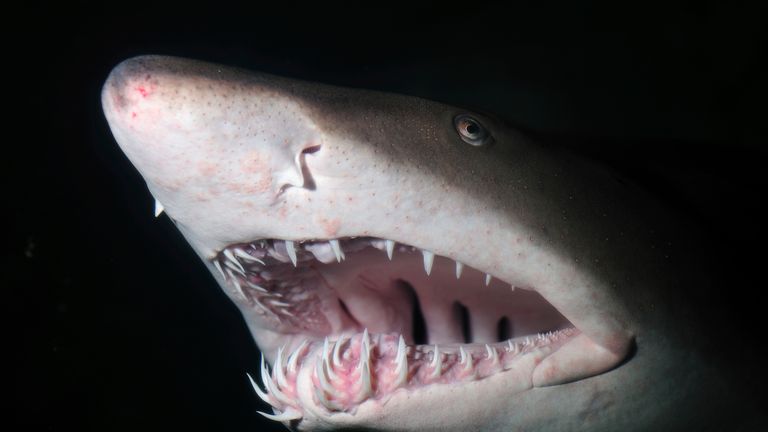 Sand tiger sharks spotted in large numbers off Long Island
Several shark attacks were reported northeast of Rockaway last month, in the waters off Fire Island, Quogue and Babylon, with officials saying they were most likely sand tiger sharks.
Sand tiger sharks, which can grow up to 10ft, have been spotted in relatively large numbers along the surf line off Long Island this summer, according to NBC News.
Experts at the Florida Museum's International Shark Fish Attack File say they are attracted to the bays and baitfish off the Long Island coast.
The file said last year New York state recorded eight of its 20 shark attacks reported since 1837.